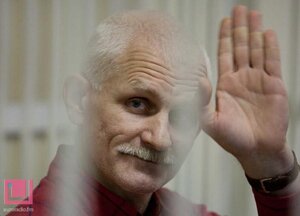 On 10th December, Paris Mayor Bertrand Delanoë handed over a symbolic award to Adam Bialiatski, the son of the vice president of the International Federation for Human Rights and the head of the Human Rights Centre "Viasna", imprisoned for political reasons. The ceremony was held in honour of FIDH at the City Hall of Paris.
Ales Bialiatski has been the Honorary Citizen of Paris since October 2012. The title was awarded him at the suggestion of Paris Mayor, and under the initiative of the City Council of the 11th arrondissement. As his term is drawing to an end, Bertrand Delanoë is aware of the fact that it is impossible that Ales Bialiatski will receive the award from him. This is the cause of his decision to present it to the prisoner of conscience's son.
Several hundred people have been invited to participate in the ceremony, including journalists, artists, as well as representatives of the French National Consultative Commission on Human Rights.
Mayor Bertrand Delanoë watches Ales Bialiatski's case closely, for he personally knows the prisoner.
Paris Mayor has been expressing his solidarity with Ales right from the moment of his arrest, when he called upon Belarusian authorities for Ales' immediate release. Bertrand Delanoë has also joined the supporting campaign and made a series of symbolic gestures.
In May 2012, a portrait of Ales Bialiatski was installed in front of the City Hall of the 11th arrondissement of the French capital city. Mayor signed the nomination of Bialiatski for the Nobel Prize. In September 2013, on the anniversary of Bialiatski's arrestment, Bertrand Delanoë  sent him a letter expressing his support and deep admiration.
The title of Honorary Citizen of Paris you have been awarded at my request in 2012, is a symbol of both Paris', and the Parisians' solidarity with you. Yet another manifestation of this solidarity is your portrait, still hanging in the square in front of the City Hall of the 11th arrondissement.
He also writes what follows: "Together with FIDH, whose vice-president you are, and with other defenders of human rights, we continue our efforts to regain your freedom."
As a token of their gratitude, FIDH handed over to Paris Mayor Bertrand Delanoë a journalistic response of Ales Bialiatski concerning his last – preceding the arrestment – visit to Paris. The purpose of this visit was to attend a meeting of the FIDH International Board. The meeting took place in the City Hall. Ales Bialiatski wrote that letter already in prison.