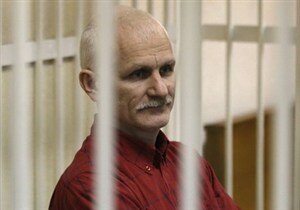 Human rights defenders of "Viasna" don't exclude that a letter from Ales Bialiatski coincidentally came without a message from himself.
According to Natalya Pinchukthe, the wife of the human rights defender Ales Bialiatski, she didn't get any letters of phone calls from her husband for more than two weeks and it made her very worried. But Natalya Pinchukthe refrained from comments on this topic stating that she will wait with her comments in this case.
The Human Rights Centre "Viasna" received a letter from Bialiatski. The envelope from penal colony in Bobruisk signed by Bialiatski came to the deputy chairman of "Viasna", Valentin Stefanowicz. The activist was surprised to note that the letter from Bialiatski was not in the envelope. It was an Amnesty International postcard which was sent to a political prisoner from Belgium and a clipping of some Belarusian newspaper.
Valentin Stefanovich doesn't know what that might mean.
"For some reason, the letter was not there. It has been removed or never was in the envelope in the first place. He didn't write to me for a long time."
Valentin Stefanovich doesn't exclude the possibility that for some reason Ales Bialacki could not write a personal letter and, therefore, was limited to send a previously received postcard to show that this kind of messages will reach him.
The human rights activist remembers that the language of the signals they used in their correspondence changed, depending on the circumstances.
This year in one of his letters Ales Bialacki made it clear that he is prepared to transfer to solitary confinement. Later Valentin Stefanovich learned from reliable sources that there were plans to put Bialiatski in solitary confinement for a few days and medical examinations were even conducted, but the order was changed once they learned that the colony will be visited by Apostolic Nuncio Claudio Gugerotti.
Valentin Stefanovich, after he received the "letter without letter" from Ales Bialiatski,  wrote to his friend in the colony. "I'll see what kind of answers I will get – wholesome or imaginary again" – said Stefanowicz.
Director of the Human Rights Centre "Viasna" Ales Bialacki was sentenced to 4.5 years in prison for hiding income from abroad. Human rights activist told the court that the money he received was used to help the victims of political repression. Ales Bialacki is detained in a penal colony in Bobruisk.