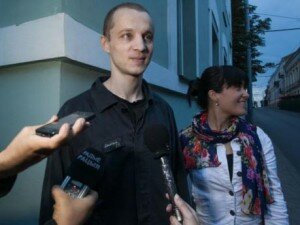 Co-Chair of the international organization the Young Front (registered in Czech Republic), a former political prisoner Dmitry Dashkevich was warned about possible extension and tightening of preventive supervision.
"Every first, third and fourth Thursday of the month, I have to appear at the Board of Internal Affairs of Pervomayskiy district of Minsk region. Today (5th of December – BelaPAN) an inspector handed me a decree stating that if I will continue to resist police officers, preventive supervision will be extended and sharpened"- said BelaPAN Dashkievich.
On the 6th of November the politician was arrested for three days for disobeying to police. On this day, near the metropolitan GUM (Central Universal Department Store), he collected signatures for restoration of historic name of the street – Franciscan instead of Lenin Street. He was stopped by law enforcement officers. In court there were two witnesses – police officers who stated that Dashkievich "resisted, sat on the ground and did not comply with their valid claims."
After receiving the warnings, the politician, according to his words, said to the inspector that he was convicted on the basis of false protocol.
Dashkievich assesses the decision of the Board of Internal Affairs of the Pervomayskiy district as "continuation of persecution of people with different views."
On 28th of August, Dashkievich was released after nearly three years in jail № 1 inGrodno.  He was arrested the day before the last presidential election, on the 18th of December,  2010 and sentenced initially for "particularly malicious hooliganism" and then for "malicious disobedience to the demands of prison administration". Dashkievich will still remain under preventive supervision for half a year after release. He was forbidden to leave their place of residence from 8pm to 6 am.