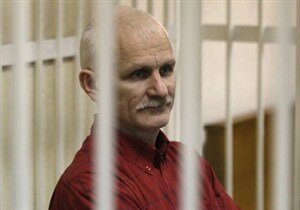 The verdict in the president's of Viasna Human Rights Center Ales Bialacki case was returnem two years ago.  The Pervomayski Raion Court in Minsk sentenced him to 4,5 years in prison for tax evasion. Human rights defenders claims that the verdict has political motives and the case is fabricated. 
Ales Bialacki own Money were spend on activities in human rights defense and help for victimized. Vice-president of Viasna Valentyn Stefanowich reminded that the jugdement brought out the fact that Bialacki was acting in accordance with previous arrangements.
– Using this phrase, the court did not give answer what kind of arrangements and obligations it were. And this is crucial. That is why Bialacki and his advocacy claimed that according to agreements conctacted by Viasna Human Rights Defense Center and foreign foundations, which were financing Viasna activity, he was obliged to transfer funds to third parties just as obligations required.    
In the course of heating, written evidence describing foundations – donors has been published and third patries – people who has received help – has been questioned.
Both the court and investigation did not carry out Minsk Prosecutions Office's orders and did not ask for help of foundations transferring funds to Bialacki to clarify their nature and purposes.
'And this is essential to the case, said Valentyn Stefanowich, becasue according to The Tax Code, funds transferred lawfully to the third partis are not taxed'.