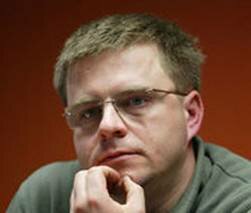 What kind of strategy taken by the opposition may lead to victory in the fight against Lukashenka's regime? Is  it worth to hope that the changes in the country will occur during the next presidential campaign? To these and other questions of Palitviazni.info answered Vlad Kobec, coordinator of the civil campaign European Belarus.
Vlad Kobec: Any games with the regime will not lead to a victory. Will there be one opposition candidate or a few in next presidential elections – it just does not matter. And finally, I do not know any example of a quick victory of one candidate. In other countries, we can observe the emergence of a single candidate in the elections only during the second round of the presidential election. But in Belarus since 1994, the second round simply never occured. In 2010, presidential candidate Andrei Sannikau collected sufficient number of votes and should go to the second round. But instead of behind bars along with his staff. Moreover, as many citizens of this country, including other opposition candidates.
Today, therefore, the opposition, civil society as never before in great need of solidarity, especially on the part of the democratic world. This missing. The European Union does not take a specific position in relation to Belarus, tangled up in their own internal problems. Lost sense of strength and belief in the core values ​​reflected now in the situation with Ukraine. Any game with dictators bring only the erosion of the democratic world. From our point of view – Belarus is the only place in the European Union. And this is what is happening within it, cannot be indifferent to us. The erosion of values ​​is simply unacceptable. One has to draw conclusions, one has to revisit the politics and take a very strong, even tough stance against the criminals who govern today Belarus and some other countries of the former Soviet Union. Therefore, when changes will come in 2014, 2015 or 2016 it is different. But one cannot associated changes solely with the presidential elections. Since there will be no elections until the country is governed by this gang.
– The authorities are doing everything to stay in power. But how to prevent it?
Vlad Kobec: Yes , it's natural that every dictatorship will do everything to stay in power. But when there will be change, awaits them court and miserable fate, and they are well aware of this. But they are not able to see another life and never agree to democratic changes. There will be no election, and there will be no transformation. There will be no democratic parties, for example, as some Communist parties in Central and Eastern Europe turned into socialist parties, but such changes will never occur in Belarus. It is simply impossible and will not happen, because people in power have no political culture. These people live according to completely different principles and dialogue with them is pointless. These people understand only the language of violence. Today, nine and a half million Belarusians who are in fact the Europeans are being held hostage, not only of Lukashenko's regime, but also of the European Union. Brussels policy towards Belarus becomes weak and quite inconsistent and it is a disaster of the European Union, because as I said, there is erosion of values. This confirms the analysis from the Foundation Freedom House, which shows that the number of democracies in the world has decreased over the past few years.
This is because the European Union, similarly like the U.S., undermined its policy in this direction. This is very dangerous because it can lead to erosion of the whole democratic world. This was already the case in the history of mankind. Have we forgotten about the experiences from 1930? Then only a miracle could change this situation. Currently, there is a noticeable increase in political power, especially on the part of Putin's Russia. We see the blackmail of Ukraine on the eve of the summit of the Eastern Partnership and plans to sign the Treaty of Association with the European Union. And it is dangerous. This is because the European Union's position is very weak.
– We are talking about international solidarity, and the role of the international community in the future of our country, but what is the role of ourselves, of our society?
Vlad Kobec: First of all we need to get rid of the sense of our own weakness, some kind of inferiority complex. I do not know a single example of such a valiant fight, as this of Belarusians. In most of the former communist countries, everything was much simpler and faster. Nowhere were so many victims, no one exhibited so much courage. Therefore, we should refrain from considering that there is nothing we can do, that we will achieve nothing. Really no one ever exhibited so much courage.
Education is crucial. Education of young people abroad is important so in free Belarus there will be well educated staff. So it was in many countries, that when changes came educated people returned to the country from abroad. After all they are free people, who do not feel nostalgia for dictatorship. Well, keep in mind that the regimes are not eternal. Therefore, one needs to do one's things and stop complaining. No one will come and do everything for us.