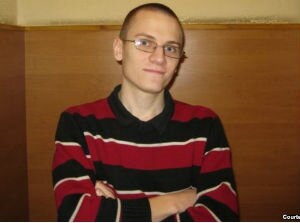 Mikola Dziadok gathered in the prison personal library, which includes more than 40 books.
An activist of the anarchist movement, Mikola Dziadok while serving a sentence has already received several parcels of books.
-Mikola has collected pretty nice library with the newest books, and there will be even more. At his request, I bought him a book about Kalinowski, which I'll post to him soon – said in an interview with Radio Svaboda, the wife of a political prisoner, Valerie Hotina. Valerie told about how the prisoner has collected his personal library.
-I do not know where he learns about the recently published books, maybe  from newspapers. He orders always something new and written in Belarusian. Usually he can receive 6-8 books. He tells what to send him, I collect new books for the next package. Then he writes  a statement, and he receives books, which are selected in such a way to be allowed by prison censorship- added Mrs. Hotina.
Valerie Hotina says that according to her calculations, Mikola Dziadok has more than 40 books. After being released from prison he will be able to take them or  he may decide to leave them in the prison library.
Anarchist movement activist Mikola Dziadok was sentenced to 4.5 years in prison for taking part in attacks on official buildings. Activist pleaded not guilty. He serves sentence in Mogilev closed prison. Last month, Mikola Dziadok was placed for a few days in solitary confinement. Relatives do not know the details of the punishment.