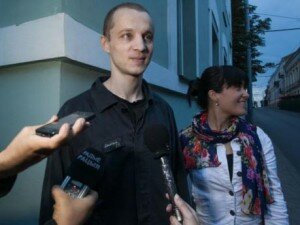 On 11 November a former political prisoner was released from the temporary detention facility on the Akrestsin Street and on the same day he officially complained to the prosecutor's office in Minsk and requested for verification whether conditions in pre-trial detention centers comply with the standards.
According to Zmicer Dashkievich, the conditions prevailing in detention centers are inhumane and according to international standards can be compared to torture.
-They don't feed inmates during the first day after the arrest. Other inmates have to share their food with others – said Dashkievich.
-Is it not barbaric to keep people without food for two days on a concrete floors in local militia stations, and then transfer them to a detention center and do not give them food for yet another day? Maybe our courts sentence one to a torture, rather than a temporary restriction of freedom? – asked Zmicer.
He complained also on the lack of air flow in the cells where other inmates are constantly smoking. And paid attention to the fact that the authorities should take care of the leakages, that are wasting  huge amounts of water and in this way save money for the food for prisoners.