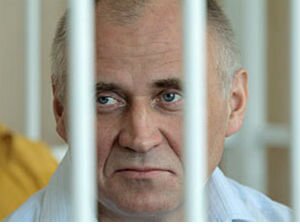 The former presidential candidate, and political prisoner Mikola Statkievich received a package with necessary drugs. The wife of political prisoner, Marina Adamovich told: – Mikola said that he had received the package and the prison guards finally stopped to bang on his door at night.
Earlier Statkievich could not receive packages with medicinal products. Political prisoner informed also that prison guards deprived him of sleep at nights.
According to Marina Adamovich, Mikola feels fine.
-Mikola Statkievich can spend in the prison shop, two minimum salaries every month – that's about 260,000 BYR. He usually buys something sweet, cookies or sunflower oil – said Marina Adamovich.
– Twice a month, prisoners are given a list of products available in the store. They choose and place their orders and that's it – she added.
The former presidential candidate Mikola Statkievich was sentenced to six years in prison for organizing riots on 19 December 2010 year. Statkievich pleaded not guilty. He serves sentence in Mahilou prison.