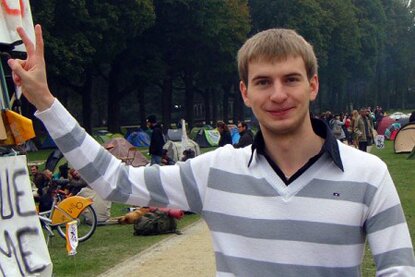 Andrej Hajdukou who is serving sentence for alleged "treason", was allowed to meet with his family.
Olga Hajdukou, mother of the political prisoner told to charter97.org:
-On 21 October , Andrej had a birthday. Me and my daughter went to him for three days. Everything was fine: we met, we talked, and of course we were all very happy, especially since we have not seen each other in almost a year. Andrei feels good – she said.
Ms. Olga addend that they brought him a big package.
-He is in the Mogilev colony the second month and he has not still accustomed to a new place. He reads a lot, after all, people are writing to him a lot of letters – I thank them very much. Andrej has a job, but it is not permanent- said Olga Hajdukou.
On 1 July the opposition activist Andrej Hajdukou was found guilty of trying to make contact with foreign intelligence and sentenced to 1.5 years in prison. Judgment was delivered by the Vitebsk Regional Court.