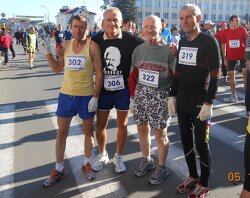 Malaryta human rights defender Uladzimir Malei dedicated a ten-kilometer marathon to the freedom of the head of the Human Rights Center "Viasna" Ales Bialiatski.
He came to the 30th jubilee marathon which took place in Malaryta wearing a T-shirt with a portrait of Ales Bialiatski and the inscription "Freedom to Bialiatski!" Uladzimir Malei took the third prize place in his age group.
"While Ales is behind bars, each of my marathons will be dedicated to the demand to release the innocent convict, who suffers just for the desire to live in a democratic Belarus."
Over the past years, Uladzimir Malei has been running in the marathon competitions wearing this T-shirt. The authorities haven't had any claims to him for that.
The competition was attended by runners from Kazakhstan, Ukraine and Russia.