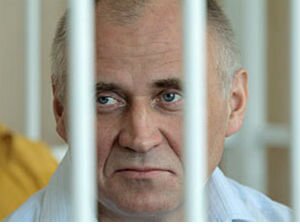 Wife of a political prisoner   Mykola Statkiewicz   got a letter from Mogilev prison.
Former candidate for the president seat in 2010 elections, sends his regards to "artilleryman", who fired fireworks on his birthday, says "Solidarność".
Gun salvo above Mohilev prison was shot by democratic activists, who wanted to celebrate 57th birthday of Statkiewicz, at the same time reminding him that they remember.
"I am reassured, that Mykolov does not suffer from health issues any more" said Maryna Adamowicz for Solidarność, "After I told journalists that my husband does not receive letters, the situation has improved". Furthermore, there came almost a hundred letters with birthday wishes. From a thousand postcards, within the campaign conducted by MEP Marek Migalski bureau, only one got through.