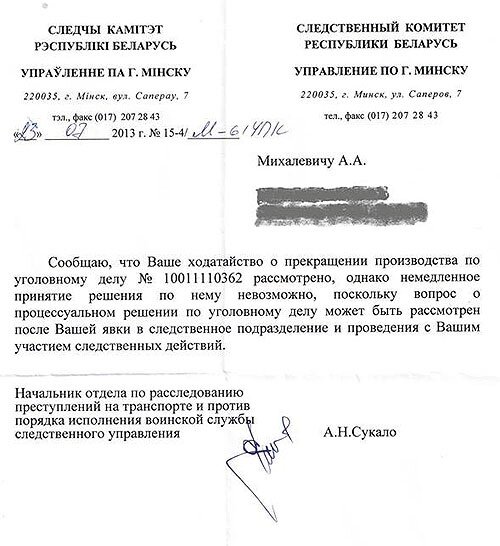 The Investigators gave a negative reply to the request of Ales Mikhalevich, in which the former presidential candidate and the KGB detention center inmate, asks for redemption of the criminal proceedings initiated against him. Mikhalevich to this day is a suspect in the investigation of the organization of "mass riots" in Minsk, December 19, 2010, as the government called a number of organized protests against rigged presidential election.
The answer for a politician in exile was signed by Mr. Sukalo, the head of the investigation department for offenses against public transport of the Investigative Committee in Minsk. The letter notifies that the decision to discontinue the investigation may be taken only if Mr. Mikhalevich shows up in Belarus.
Ales Mikhalevich published a copy of the letter of the Investigative Committee on his Facebook profile. "Nearly two months ago, on the advice of my lawyers, I submitted a request to the Investigative Committee for discontinuance of criminal proceedings against me. And here's the answer "- wrote politician.
Ales Mikhalevich expressed surprise that "others were given permission to discontinue the proceedings without having them appear".
Ales Mikhalevich, like most of presidential candidates, was detained in the night of December 20, 2010. He was released on recognizance from a KGB detention center one month later. He organized a press conference to share his experience about tortures in pretrial detention. In March 2011, Mikhalevich secretly fled Belarus and was granted political asylum in the Czech Republic. Mikhalevich was detained for several times in foreign airports as a person wanted by Belarusian authorities via Interpol but would be eventually released after involvement of political authorities.
palitviazni.info