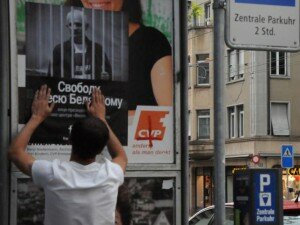 Activists of Novopolotsk social organization "Free Region", in collaboration with the International Federation for Human Rights (FIDH) organized in Zurich a demonstration of support for political prisoners in Belarus.
The participants, hanged on the Belarusian consulate building leaflets with addresses of 12 political prisoners, and two posters demanding "Freedom for Ales Bialiatski" in Russian and English.
The same posters were put on advertising pillars. The participants handed to passers-by leaflets with the addresses of political prisoners and asked to write to them letters with words of support. Participants of the action noted that Zurich residents know little about Belarus, and even less about political prisoners in the country. However, one of the passers mentioned that one of the local newspapers wrote about the falsification of election during the parliamentary elections in Belarus in 2012.