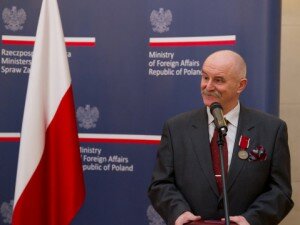 Belarusian authorities begin new reviews of cases of political prisoners, sentenced for participating in 19 December 2010 rally.  Young people are called for interrogations to court, investigators inform them of the charges of violating the principles of preventive supervision. Noticeable, that these events are taking place while Vladimir Makey, the Minister of Foreign Affairs, visits Brussels. Is it a coincidence? Palitviazni.info talked about it with Jan Malicki, the director of the Centre for East European Studies at University of Warsaw, responsible for Kalinowski program.
Jan Malicki: I think that in this way the Belarusian authorities are trying to raise their rates in negotiations. This is not the first time we see such a game – there are artificially created obstacles for civil society, and then the authorities found people guilty of certain "offenses". It is not the first time that the official Minsk starts this game.
– If this is not the first time that similar measures are used, so why they still bring further gain for Belarus, even though we all know about them?
Jan Malicki: I did not say that we all know about them. I just so understand this situation and see that the Belarusian authorities use it. I do not think, however, that everyone thinks the same.
– What do you think, why once again the democratic countries participate in this offensive game that is (political) human trafficking?
Jan Malicki: Firstly, most of the politicians of the European Union does not have enough knowledge about the situation in Belarus. And Lukashenko uses this ignorance.
– Similarly,  in Belarus the public opinion seems to legitimize political arrests. Is it not due to lack of information of citizens?
Jan Malicki: Here I will disagree, because the situation in a country is more like apathy. First of all, political apathy. It is difficult to talk about the lack of information. Nowadays if  a person wants to know something, he or she will find the way. There are independent media: web sites, television, radio. Information can be found if you want to. Hence the situation has been for a long time resembling political apathy. The opposition consists of a small number of people. And they do not have enough support. This is the cause of the lack of changes in the political situation.
– Are there taken  any actions that may change the existing situation and bring about a change?
Jan Malicki: Unfortunately there is no universal solution for this situation. I think that the change will be sooner or later brought by Lukashenko himself. The political crisis may trigger such change. Only then people will cease to believe him and wait for his decisions. People should learn that Lukashenko's promises are lies. I mean promises that Belarus is a rich and secure country and that EVERYONE in it can count on a support. It seems to me that plenty of people today believe that Belarus is economically very well and is in tenth place among the most developed countries in the world. It's funny opinion and completely contrary to reality, but people still believe in it. They believe that the problems in the economy are caused by some interference from the outside. They believe that the Belarus is a state of law, that there are no political prisoners persecuted for their beliefs.
– As for the Kalinowski program, conducted by the Centre for East European Studies, how many Belarusians study in Poland? And do political prisoners turn to you for help?
Jan Malicki: Firstly, I will say that in Europe this program is the largest in modern times, in terms of assistance to repressed Belarusians, especially in the field of education. Let me also add that this program is the only one with such a large scale, funded entirely from the state budget, that  is, without the use of EU funds. For now, Poland has about 300 students from Belarus. Over 200 people have graduated from the program. At the same time, some of them continue education in Poland and defend their doctoral dissertations. In our program participate also political prisoners. We carry help not only to people removed from the university but also to the Belarusian political refugees. That's why dozens of people participating in the program are former political prisoners and political refugees.
palitviazni.info