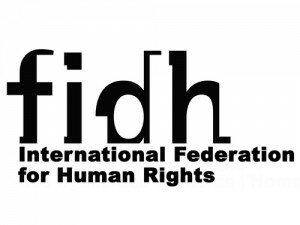 On July 22, on the occasion of Belarus Foreign Affairs Minister Vladimir Makey's visit to Brussels, FIDH held a demonstration in Rond-Point Schuman, in the heart of the European (EU) district.
FIDH reiterated that the human rights situation in Belarus remains catastrophic and that any political dialogue between the EU and Belarus must remain conditioned by the release of political prisoners and reinstatement of their civil and political rights, as well as sustainable systemic changes in the direction of the rule of law and respect for human rights. FIDH called for the EU to remain firm and consistent with the international community in its policy towards Belarus, including the United Nations. As a result of his activities, human rights defender Ales Bialiatski has been jailed for nearly two years. Mr. Bialiatski is the head of Human Rights Centre Viasna and was reelected in May 2013 as a Vice-President of FIDH.
The picketers were standing with portraits of Belarusian political prisoners and slogans "Freedom to Political Prisoners!" and "Free Them Now!"
They were wearing T-shirts with portraits of Ales Bialiatski, prominent Belarusian human rights defender and FIDH vice-president, who has been behind bars for almost two years and is recognized as a political prisoner.
Antoine Madelin, director for intergovernmental organizations at the FIDH, said that the UN had repeatedly condemned the situation in Belarus, but no progress has been observed in the past two and a half years. He noted that the EU was holding dialogue with Belarusian officials involved in human rights abuse. The EU should have lifted its entry ban on Mr. Makey only if the political prisoners had been released and human rights respect had been secured, Mr. Madelin stressed.
Sasha Kulayeva, head of the FIDH`s Eastern Europe and Central Asia department, said that the demonstration was meant to urge the EU to have a more balanced attitude toward the situation in Belarus and possible change in the country. She suggested that the EU should adopt a roadmap for securing change in Belarus where the release of political prisoners would be just one of several requirements for Minsk.
naviny.by