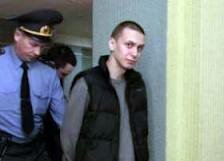 Friends and relatives do not receive letters from political prisoner Aliaksandr Frantskevich.
Tatsiana Frantskevich, mother of political prisoner, informed Charter97.org:
-The censor went on holidays, so we receive letters rarely. He writes he is okay. The only problem is mosquitos. Insect sprays are prohibited. Some inmates are allowed to have repellent mats. I sent them to Aliaksandr, but I know that it is forbidden in other prisons,- the political prisoner's mother says.
She added that Aliaksandr had been thrown into a punishment cell for five days in early summer.
-New prison authorities were appointed. Aliaksandr had a conflict with a prison officer. He was accused of violating prison rules and transferred to a punishment cell for five days. It's calm and quiet now. He is to be released on 3 September. Aliaksandr wrote he will have the trial in prison which will determine a kind and a period of police supervision. A lawyer will visit him in August to figure out the date of the release and other details, because the correctional colony is situated in a forest 20 kilometres from the nearest station,- Tatsiana Frantskevich says.
In May 2011, Aliaksandr Frantskevich was sentenced to three years' imprisonment in the "anarchist case". He was accused of carrying out attacks on administrative buildings and hacking the website of the Navapolatsk city executive committee. He pleaded not guilty at the trial. Human rights activists recognised Frantskevich as political prisoner. They demand to release him immediately.