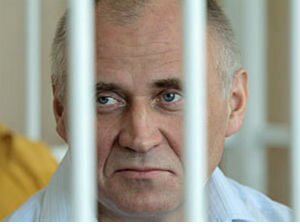 Came to light details of the letter of Mikola Statkevich confiscated by the prosecution.
Charter97.org received this information from sources in the Mahilou prison, where the political prisoners serves his term.
Mikalai Statkevich wrote in a letter about conditions in the Shklou correctional colony. Many of the opposition activists convicted for the rally against the rigged presidential election on December 19, 2010, were thrown into the Shklou colony.
He wrote that four political prisoners received rape threats to made them apply for a pardon.
The political prisoner thinks the prison authorities wanted to get rid of the inmates that could tell about corruption in the correctional colony.
Mikola Statkevich wrote also about other violation of the law, which he witnessed in a penal colony. In particular, he mentioned that the prison officers took food from packages that are coming to prisoners packages. The unit chief officer took away sausages, chocolates and cigarettes. Inmates had to "pay" him to have a chance to be released on parole.
Mikalai Statkevich says other correctional colony have similar conditions.
Statkevich's wife Maryna Adamovich said on 16 July that his letter had been confiscated and sent to a prosecutor's office. She noted she didn't know the content of the letter but thinks her husband had things to tell.
Mikalai Statkevich was a presidential candidate in the 2010 election. He was arrested after a protest rally against electoral frauds.
On May 26, 2011, the politician was sentenced to 6 years in a medium security correctional colony by Minsk's Partyzanski district court.
On January 12, 2012, confinement conditions for him were strengthened. He was transferred from penal colony No. 17 in Shklou to prison No. 4 in Mahilou.
Statkevich is often thrown into a punishment cell. He has restrictions relating to parcels and visits of relatives. He often faces provocations on the order of the authorities.