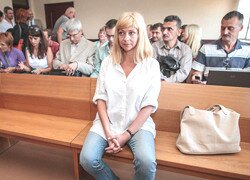 Every former political prisoner can be again imprisoned.
A journalist Iryna Khalip gave an interview to the charter97.org web-site after yesterday's trial.
-I do not feel as a free person. I do not know anymore how it is possible not to check the time at night, I do not know how it is possible to go, for example, to a theater or concert in the evening and be sure that even if it is later than 10 p.m., nothing bad will happen. I do not know anymore how it is to get on a train or a plane and go somewhere without asking anyone for permission. De-facto, I was under house arrest all the time, similarly like Uladzimir Niakliajeu. If we add the five-month jail term, then we get quite a long term. I would also like to say that a person cannot be free even if the person is not currently under arrest or criminal persecution. Remember how people met Parfiankou and Jaromienak, who came from prison as free people. Now Parfiankou is preparing to go to prison again, – the journalist noted.
She also noted that a person cannot feel free, if the state machine can enter in his/her life at any time.
–Dzmitry Dashkievich will soon be released, because his prison term expires, but they will say that the situation has improved because Dashkievich is released. One must not confuse logic. Now the number of political prisoners is again increasing. That I have not been sent to a colony today does not mean that this will not happen in a month or two or in a year. This does not mean that Uladzimir Niakliajeu will also be released. I still do not believe in any improvement, – Irina Khalip said.
She added that she had no expectations and hopes when she went to the court.
-In these years I have been able to develop kind of an ability – not to expect anything, not to plan anything. What will be will be. So far I have plans for the nearest evening. Together with friends we are going to meet and go to some café and not to check the time, – Iryna Khalip said.
On 19 July the court of Minsk's Partizan district decided to free the journalist Iryna Khalip from the criminal punishment as the verdict's postponement expired.
On 16 May 2011 the wife of a former presidential candidate Andrei Sannikov was sentenced to two years in prison with a postponement of the punishment for two years.