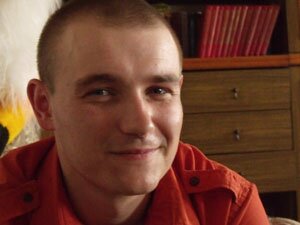 The criminal case against a member of the Young Front, Uladzimir Jaromienak, will be submitted to the court the following Monday. The accused informed Palitviazni.info that on Thursday, 18 July, he had the meeting with the investigators. The day before a criminal case against Vasil Parfiankou was submitted to the court. Both participants of rally on 19 December 2010 are according to the authorities guilty of the same offense.
Uladzimir Jaromienak is charged under the Article 421 of the Criminal Code of the Republic of Belarus – breaking the rules of preventive surveillance.
The criminal case under the same article has been initiated for the second time against another political prisoner, Vasil Parfiankou, also convicted for participation in Ploshcha-2010.
Vasil Parfiankou says that he is familiar with the materials of his case and now the case went to court. Date of examination by the court is for now unknown. – It is not a nice experience, but I'm not afraid. I may be imprisoned from 6 months to a year. This is not the first time. And though I would not like to be imprisoned, apparently this is my fate – concludes activist.
When asked if he feels forced to emigrate due to political repressions, political prisoner, said: I love Belarus, and I'm not going to leave it.
The Human Rights Center "Viasna" considers the prosecution of Vasil Parfiankou and Uladzimir Yaromenak as politically motivated solely associated with the desire of the authorities to put an end to their activities, as well as an intention to intimidate other political and civil society activists.
palitviazni.info