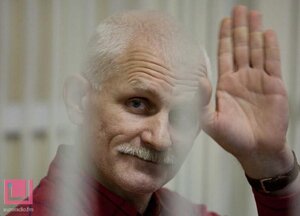 The Homel City Executive Committee received a collective application for the allowance to organize the support march for the human rights defender,  Ales Bialiatski, on August 4.
Among the organizers are well known politician and social activist, engineer and scientist, former deputy, deputy chairman of the Federal Council of the USSR Juri Varonezcau, and political prisoner 's colleagues – Leonid Sudalenka and Anatol Paplauny.
-The march with banners and slogans will go down the street from the Soviet central Lenin Square to the Francysk Skaryna Homiel State University,  where Ales spent his younger years. It will take place on 4 August – two years after Ales Bialiatski's  arrest. The event will be organized in order to attract public attention to the problem of the existence of political prisoners in the country, not only Ales Bialiatski, who was sentenced by completely illegaly , – said Anatol Paplauny to gomelspring.org in an interview.
He noted that the action of support for Ales Bialiatski  is nationwide and is organized on the initiative of human rights defenders. Applications to organize similar events shall be submitted to all administrative districts and other cities of the country.
The actions of support for political prisoners are held regularly in Homel. Currently, the UN Human Rights Committee received a collective action initiated by Anatol Paplauny and Leanid Sudalenka against the ban on picket scheduled for August 2011 as an act of protest against the arrest of Ales Bialiatski.
In addition, there are regularly organized other initiatives in support of political prisoners: Wish Ales Bialiatski happy birthday or Send greetings to  a political prisoner on the occasion of Independence Day.
Currently activists from Homel joined the nationwide action the Week of Political Prisoner, during which everyone is encouraged to write a greeting card to a political prisoner.