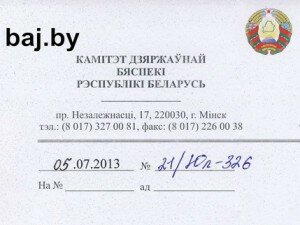 On July 15, 2013, the Belarusian Association of Journalists received an official reply to its inquiry of June 11, 2013 from the KGB.
The BAJ had addressed to the KGB Chairperson Valery Vakulchyk with an official letter, wondering about the actual situation with the filed criminal case against Anton Surapin.
The First Deputy Chairperson of KGB Ihar Siarheyenka directed BAJ to the KGB Web-site, where, allegedly, the inquired information could be found. Moreover, Mr. Siarheyenka mentioned that Anton Surapin had been "duly informed" about the taken decision in relation to him.
Alas, the BAJ Press Service didn't manage to find the news on the KGB Web pages on July 14, 2013. The KGB Press-service representatives failed to take a receiver, in order to clarify the reference either.
"Despite the fact that termination of criminal proceedings in relation to Anton Surapin was reported on June 28th, we hoped to get an exhaustive answer that could clarify the motives of some actions, taken by the legal investigators. They look obscure up till the present moment", noted Andrei Bastunets, Deputy Chairman of BAJ.
It is worth mentioning that a similar situation took place in September 2012. The Belarusian Association of Journalists sent several hundred of signatures, calling upon the official authorities to terminate the criminal proceedings against Anton Surapin on September 13, 2012. According to the return receipt, the certified letter with signatures was received by "the authorized person" at the KGB on September 17, 2012. However, the BAJ members didn't receive any kind of response to their collective appeal from the governmental agency.