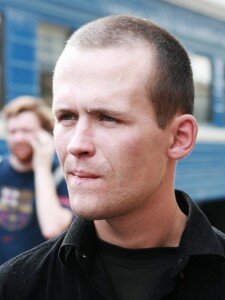 The former political prisoner, the participant of the events on the Square in 2010, Vasil Parfiankou was officially accused of breaking the rules of preventive surveillance.
Vasil Parfiankou was summoned to the Pershamaiski district police department in late June. He was told that a new criminal case, the third one, had been initiated against him for violation of the rules of the preventive supervision. He said to the investigator that three violations were needed to open a criminal case, and he had only two. The investigator answered: "Two violations is a system. The inspector thinks it is the ground to initiate the case."
Vasil's first violation was that he went out to a store in wrong time and the second one was that he came home a little bit later than he should. Police officers came to check on him, but Vasil wasn't at home in both cases.
Vasil Parfiankou is banned from leaving the town. According to him, he must visit the police department on July 15 to read the case, which will be submitted the a court later. He plans to file an appeal after the first hearing of the court that will take place in next month.
Vasil Parfiankou may be imprisoned for 6 months or a year. "I don't admit my guilt, so the sentence will be severe, I think. But I am ready and not afraid. I will go to prison again if I have to," he said.
Vasil Parfiankou was the first activist to be convicted in the case of the events on December 19. In February 2011, Minsk's Frunzenski district court found him guilty of taking part in mass disorders and sentenced him to four years in a maximum security correctional colony. Vasil Parfiankou was obliged to pay more than 14 million rubles for broken windows in the House of Government. He was pardoned by Lukashenka in August 2011.
He was put under preventive supervision on January 5, 2012. The Investigation Committee initiated the second criminal case against Vasil Parfiankou in April for violation of the rules of the supervision. In May, the Pershamaiski district court found Parfiankou guilty of violating police supervision rules and sentenced him to a 6-moths term in custody. He was transfered to the detention facility in Baranavichy in August 2012.
After the release in February 2013, Parfiankou said he would continue to "support the Belarusian movement".
In April, Minsk's Pershamaiski district court fined him 8 penalty units for violation of the supervision rules. On May 17, Parfiankou was tried again for the same offence and fined 3 million rubles.