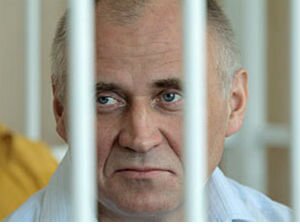 Former Belarusian presidential candidate Mikola Statkevich was allowed to meet his wife, Marina Adamovich, for the second time since he has been imprisoned. Their meeting took place on July 2 in Mahilou prison No. 4.
According to Ms. Adamovich, the meeting lasted two hours and they were talking through a glass partition
"During the time of Mikola's imprisonment, that is two years and seven months already, I've had only one opportunity to be next to him, touch and embrace him. This happened in December 2011, [while he was] still in Shklov"- says Ms. Adamovich.
In her opinion, Statkievich has not changed – "he is still confident, calm, strong and very positive."
As she notes his system of values has not changed as well.
Mr. Statkevich expressed his disapproval of a campaign for the release of the political prisoners recently launched by opposition activists in Babruysk, Mahilou region. The campaigners call on people to send letters to the political prisoners asking them to apply to Aleksandr Lukashenko for a presidential pardon. "Statkevich said that even if the entire pro-democratic community asked him to do this, he would not listen," she said.
Ms. Adamovich said that almost no letters had been delivered to her husband lately. Mikola joked that this might be an act of revenge for the publication of letters in which he condemned a draft report by Justas Paleckis, the European Parliament's rapporteur on Belarus, and called on Lithuanian Prime Minister Algirdas Butkevicius to refrain from meeting with his Belarusian counterpart.
Mr. Statkevich also denounced attempts by some people, mainly in Belarus, to "fudge" the European Union's demand that the political prisoners should be not only released but also exonerated, she said. According to Mr. Statkevich, these people may claim they are well-intentioned, but the compromise they propose would constitute an act of betrayal because it would lay the foundation for "new crimes and make it possible to take new hostages."
Ms. Adamovich said that her husband had expressed deep respect for the other political prisoners in Belarus and described "these wonderful strong people as potential new leaders." He even joked that some secret government sympathizers were keeping them behind bars to help people choose the strongest leader within the divided opposition camp.
In May 2011, a district judge in Minsk sentenced Mikalay Statkevich, currently 56, to six years in a medium-security prison, finding him guilty of organizing "mass disorder" in connection with a post-election protest staged in the Belarusian capital city on December 19, 2010.
In a trial that took place in a prison in Shklov, Mahilou region, on January 12, 2012, a judge found Mr. Statkevich guilty of violating prison rules and ordered him placed in a higher-security correctional institution for three years.
The charge was brought against Mr. Statkevich because of his missing number tag and failure to mention handkerchiefs among his personal items.
Since January 2012, Mr. Statkevich has been held in a two-man cell in Prison No. 4 in Mahilou.
Aleksandr Lukashenko has repeatedly declared that political prisoners may be released if they write an application for a pardon. According to Marina Adamovich, Statkevich has had several offers to write such an application. Each time he refused, the authorities intensified pressure on him to force him to do so.
On December 20, 2011 Mikola Statkevich and Marina Adamovich, married in prison as their marriage had not been formally registered due to bureaucratic obstacles. Then they held their first meeting, which lasted a day.