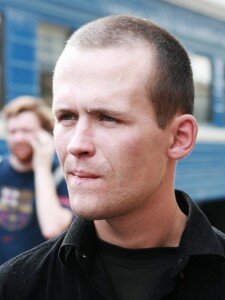 At Minsk's Piershamajski police department Vasil Parfiankou was informed that another criminal case had been started against him. He is charged under the article 421 of the Criminal Code for violating the requirements of preventive surveillance, Radio Svaboda reports.
Currently Vasil Parfiankou have two violations, and usually three are need for a criminal case to be started. The investigator says that two violations are already a system.
The opposition activist told about his violations: one time he went out to a grocery store, second time he arrived home a bit late. These were the moments when policemen came.
Vasil Parfiankou was sentenced to four years in high security prison for participating in a protest manifestation against the rigged 2010 presidential elections. He was released on 13 August 2011 in accordance with a decree by Lukashenka. In four months, on 19 December 2011, Vasil Parfiankou was detained in October Square where representatives of opposition tried to hold an action on the anniversary of the presidential elections.
The term of the preventive surveillance, was to end on 30 June.