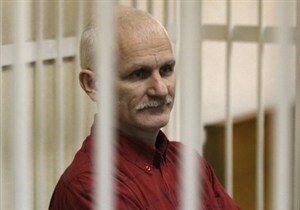 More than 30 Polish NGOs nominated Ales Bialiatski for the Václav Havel Human Rights Prize, the initiative being launched by the Stefan Batory Foundation.
The Václav Havel Human Rights Prize is awarded annually by the Parliamentary Assembly of the Council of Europe (PACE) in cooperation with the Václav Havel Library and the Charta 77 Foundation.
Václav Havel Human Rights Prize was presented at a ceremony of signing the Co-operation Agreement by the President of the Assembly, Jean-Claude Mignon, the Director of the Václav Havel Library, Marta Smolíková, and the Chair of the Steering Committee of the Charta 77 Foundation, František Janocha on June, 25 in Prague, in the presence of Czech Foreign Minister Karel Schwarzenberg.
The Václav Havel Human Rights Prize has replaced the Council of Europe Parliamentary Assembly Human Rights Prize, which was created in 2007 and awarded every two years, first in 2009 to British Irish Human Rights Watch and then, in 2011, to the Russian NGO Committee against Torture.
Individuals or non-governmental institutions active in the defence of human rights can be nominated for the Prize. Nominations for the Prize should be addressed to the Secretary General of the Parliamentary Assembly and be signed by at least five sponsors, other than the nominee, on the special form to be found at the Václav Havel Human Rights Prize website.
The Prize will be awarded at a ceremony which shall take place in Strasbourg on September 30, 2013. The Prize winner will receive a diploma and an award of 60,000 Euros.
The Head of human rights centre Viasna (Spring) and Vice President of FIDH, who remains in prison, was repeatedly awarded for fighting for justice and human rights, including the Petra Kelly Award and the Lech Wałęsa Prize. He also became a winner of the Charter'97 Prize for his outstanding achievements in the field of protection of human rights in 2012.