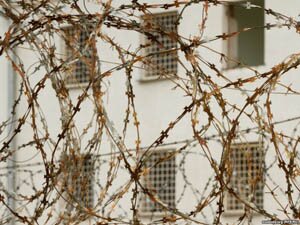 Closed trial of "a spy" Andrej Hajdukou is expected to last until the end of the week. Andrej Hajdukou,  23-year-old worker of Novopolotsk factory is accused of violating two articles of the Criminal Code: paragraph 1 Art. 14 – "Attempted crime", and paragraph. 1 Art. 356 – "Betrayal of the state." He faces up to 15 years in prison. The case was considered by the Vitebsk District Court judge, Galina Urbanovich.
"The practice of organizing closed trials of spies,  is the Soviet tradition" says Onufriev Romanovich deputy chairman of the Council for National Rebirth, a former employee of the KGB.
The trial of Belarusian opposition activist Andrej Hajdukou, who is charged with high treason and espionage, has began on June 12 and is held behind closed doors. Hajdukou, a youth activist from the northern city of Novopolotsk, was arrested in November. Belarus's KGB says he was detained while in possession of materials that might be of interest for foreign secret services. In a letter written from prison, Haydukou said he had been charged with attempting to threaten national security and accused having contacts with the foreign agents.
There is a lot of questions about the nature of Hajdukous alleged treason. For whom worked Hajdukou? For which country? Why the information on the case are secret? Therefore, does the closed nature of the trial prove that the case is based on imaginary premises?
What harm did Hajdukou do by writing projects and seeking support for his organization in offshore funds? It is a normal practice in the West – to find funds to support the activities of civil society organizations. But not in Belarus. It is no secret that the representatives of various associations turn to the embassies in order to obtain grants for their projects. And it has nothing to do with espionage. This, however, caused the arrest of Andrej Hajdukou.
Andrej Hajdukou is 23 years old. It is dubious that he had access to any sensitive information. Moreover, Belarus is not a country where there is a need for conducting intelligence activity. There is enough information on defense available to public opinion.
Palitviazni.info: Mr. Onufriev, what is your opinion about the letter concerning the case that Hajdukou has sent from prison? Is it a provocation of special services, or indeed Andrej was given the opportunity to send the letter and describe the accusation?
Onufriev Romanovich: First of all, it is a very young boy, who was taken into custody of KGB. And what happens behind the prison wall? Comes to mind the example of Dzmitrijev andRomanchuk, who were simply broken. Therefore, I think that Hajdukou's letter was dictated to him. This situation does not belong to those where a man suspected of treason is allowed to write whatever  he likes.  The authorities could only dictate it to him.
Palitviazni.info: Hajdukou's case is a precedent, nobody before was accused under article 356. Is it not a warning that the art. 356 – the high treason charge, could become the equivalent of art. 58 of Soviet code?
Onufriev Romanovich: This article is political. Authorities need it to intimidate the opposition. The regime does indeed everything to intimidate civil society.
Hajdukou was an opposition presidential candidate's aide in 2011 and is an activist of The Union of Young Intellectuals. He was arrested by the State Security Committee (KGB) on November 8, 2012 in Vitsebsk. The KGB accuses Mr Haydukou of trying to destabilize the social and political situation in Belarus and seeking financial assistance from the CIA through the US embassy in Minsk. Hajdukou's relatives and colleagues say the case is politically motivated.
Palitviazni.info