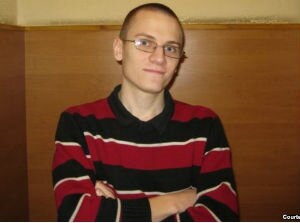 Mikola Dziadok who serves his sentence in Mahilou prison sent his wife a letter in which he described his vain hopes for the periodic release.
"In the letter he wrote that he does not believe in the periodic release, just like in the amnesty. He understands that he would have to serve the entire sentence, that is remaining one year and nine months. He writes that the only solution are demonstrations of solidarity with political prisoners, that allow to inform public opinion of their existence" – said the father of the political prisoner, Alexander Dziadok.
Anarchist activist Mikola Dziadok  was sentenced to four years in prison for attacks on official buildings. At his trial, Mikola pleaded not guilty. Human rights defenders in Belarus believe that incarceration of Mikola Dziadok is strictly politically motivated.