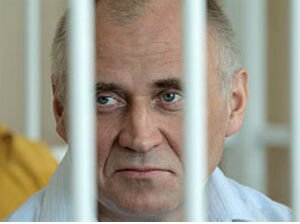 Mikalai Statkevich wrote in a letter why he didn't believe that political prisoners would be released on Easter.
Mikalai Statkevich's wife Maryna Adamovich received a letter from the political prisoner, who thanked his friends who passed a TV-set to him. He wrote he already saw "spring leaves" on television, Radio Svaboda reports.
"It is the third spring in prison for him," Maryna Adamovich notes.
Mikalai Statkevich explains why he didn't expect the release on political prisoners at Easter.
Former presidential candidate Andrei Sannikov and his aide Zmitser Bandarenka were pardoned a year ago.
Mikalai Statkevich says it was a coincidence that they were freed at Easter. "They were just delaying consideration of their pardon applications hoping that Zmitser Dashkevich and I would join. They waited for a session of the pardon committee that meets twice a year – in the middle of spring and in the middle of autumn. Easter is not the ground. Moreover, it's not typical of Orthodox atheists."
According to Maryna Adamovich, she doesn't receive all letters from her husband.
Mikalai Statkevich was a candidate in the 2010 presidential elections. He was arrested after a rally against the rigged election results.
Minsk's Partyzanski district court sentenced him to 6 years in a medium security penal colony on May 26, 2011.
Confinement conditions were strengthened for him on January 12, 2012. He was transferred from penal colony No. 17 in Shklou to prison No. 4 in Mahilou.
Statkevich is often thrown into a punishment cell. He has restrictions relating to parcels and visits of family members. He often faces provocations on the order of the authorities.
Charter97