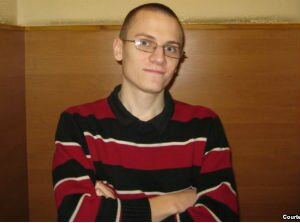 Mikalai Dzyadok met with his lawyer in prison in Mahilou on March 28.
Radio Svaboda was informed about the meeting by Mikalai's father Alyaksandr Dzyadok. The prison authorities do not say why he was thrown into punishment cell, but claim Mikalai allegedly violated prison rules.  According to the lawyer, Mikalai is doing well and has no health problems.
Mikalai Dzyadok, Ihar Alinevich and Alyaksandr Frantskevich were sentenced by Minsk's Zavadski district court on May 27, 2011. They were charged with carrying out attacks on buildings, arson attacks, holding an unsanctioned procession near the Ministry of Defence in 2009, throwing Molotov cocktails at the Russian embassy and a detention facility in Minsk in 2010. Mikalai Dzyadok was sentenced to 4.5 years in a medium security penal colony.He was transferred to prison No. 4 in Mahilou in December 2012.
Spring96, Palitviazni.info