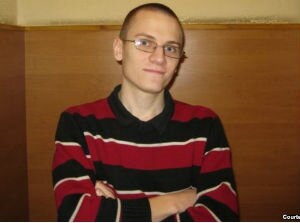 Mikalai Dziadok, the political prisoner, will be able to receive medicines and warm clothes for winter.
Aliaksandr Dziadok, the father of the political prisoner Mikalai Dziadok, told the charter97.org web-site:
"Mikalai still remains in the  cell type premises but the administration finally allowed him to receive medical parcels. Now he will be able to receive all the necessary medicines. Also clothing parcels were allowed for him. So he will have warm clothes for the winter".
"Everything is good with the son's health, he does not fall sick, does sports" – Aliaksandr Dziadok pointed out.
According to the political prisoner's father, the court  hasn't so far considered the application for Mikalai Dziadok to get back his Charnobyl certificate: "So far the refusal of the issue of a Charnobyl certificate has not been applied against, the court plays for time. Last time the court told that it was postponing the session for an uncertain period of time. Allegedly because of the judge being busy. Concrete reasons were not announced".
Mikalai Dziadok was born in Bragin at the territory affected by the Charnobyl nuclear catastrophe. The Supreme court deprived the political prisoner of a Charnobyl certificate, claiming that there were no evidence of Mikalai being born in Bragin. At the same time the political prisoner's place of birth is stated in his birth certificate. But the Supreme Court didn't consider that a proof. A Charnobyl certificate would have allowed the political prisoner to be released under an amnesty.
Mikalai Dziadok, as well as Ihar Alienevich, Aliaksandr Frantskevich and Maxim Vetkin, who were all involved into the same court proceedings, were sentenced by the Minsk Zavodskoy district's court on 27 May 2011. They were incriminated for a number of attacks on buildings, and particularly for holding an unauthorized anti-war action near the Ministry of Defense in 2009, throwing Molotov cocktails to the territory of Russia's embassy in Minsk and the building of the prison in Akrestsina street in 2010. Mikalai Dziadok was sentenced to 4.5 year in a high security prison.