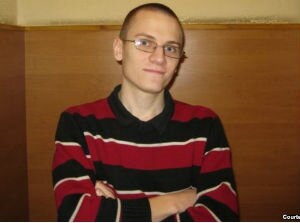 Mykola Dziadok wrote in a letter to his parents that after several months he is finally allowed to receive parcels with medicines. In his letter he also mentioned about the release of Kavalenka and Syromalatau and wrote that he was not going to write a request for a pardon, as informed the father of a political prisoner, Alexander Dziadok.
"It is for him unacceptable. He believes that it is impossible to ask for a pardon those who sentenced him against the law. Soon he should be visited by the lawyer. We want the lawyer to  discuss with our son the possibility of submitting a complaint to the Supreme Court. We want to take advantage of all the possibilities, so as not to regret later that we could have done more" – said Mr. Dziadok.
Mykola Dziadok is serving his sentence in the colony in Shklov. It has been several  months  now since he is being held in solitary confinement as a prisoner infringing prison rules. He is not allowed to meet with the family. It is almost a year since he had seen his father for the last time.