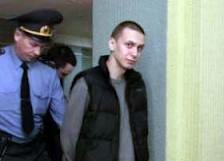 Aliaksandar Frantskievich, a political prisoner, who is serving his sentence in the Ivatsevichy prison was finally allowed to contact his relatives. He called home. "It is possible that in November, the authorities will allow us to meet" – said Aliaksandar 's mother Tatiana.
"The lawyer is going to visit Aliaksandar next week. He called and said he was handed a package of medicines that  I have sent. But he was allowed to take only vitamins. He wrote a request for meeting with the family in November. It is possible that I will go. But I'm not sure and I'm afraid that the authorities may not give their permission to do so, because I see that another wave of repression has started "- Mrs. Tatiana said.
Aliaksandr Frantskievich (23) is a Belarusian anarchist. On May 27, 2011 was found guilty of participation in the attack on the police station in Soligorsk; the attack on the Trade Union Federation building; hacking the web-page of Novopolotsk municipality and sentenced to 3 years in a colony with the reinforced regime.