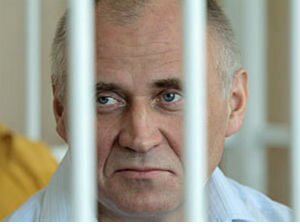 Maryna Adamovich, the wife of imprisoned former presidential candidate Mikalay Statkevich, has received a letter from him, in which he writes about his recent meeting with Apostolic Nuncio Claudio Gugerotti.
The meeting took place on September 25 in the room of the head of the Mahilyow cell-type prison where Mr. Statkevich serves his term.
"The day before the meeting, prison officers asked Mikalay which religion he belonged to and when he said he was an Orthodox Christian, they were disappointed, apparently because they wanted the meeting to be of a purely religious nature," Ms. Adamovich said in an interview with the Belarus Service of Radio Free Europe/Radio Liberty. "Mikalay writes that the nuncio was very friendly. The conversation was interpreted from English to Belarusian and vice versa by a young man. Mikalay expressed gratitude to the pontiff for his attention and support. When asked what he would like to say to the European envoys in Belarus, he in fact repeated what he had said in his final statement during his trial, that bandits should not be offered money for the release of hostages or else there would be new hostages."
According to Ms. Adamovich, her husband is denied access to the Orthodox priest who visits the prison on a daily basis. "This may be because on Easter Sunday, the priest sent an Easter cake and eggs to him by way of support," she said. "While meeting with the nuncio, Mikalay mentioned that he was denied the opportunity to see a priest and Claudio Gugerotti said that he would meet Patriachal Exarch Filaret and told him about that."
"Mikalay writes that he immediately warned the nuncio that he would look out of the window during the conversation because there were trees and grass outside, which he had not seen for almost a year," Ms. Adamovich said.
In May 2011, a district judge in Minsk sentenced Mr. Statkevich to six years in a medium-security correctional institution, finding him guilty of organizing "mass disorder" in connection with a post-election protest staged in the Belarusian capital city on December 19, 2010.
In a trial that took place in a prison in Shklow, Mahilyow region, on January 12, 2012, a judge found Mr. Statkevich guilty of violating prison rules and ordered him placed in a higher-security correctional institution for three years.
The charge was brought against Mr. Statkevich because of his missing number tag and failure to mention handkerchiefs among his personal items.
Since January, Mr. Statkevich, who turned 56 on August 12, has been held in a two-man cell in the Mahilyow prison. He is allowed to have only one brief conjugal meeting a year and receive one food parcel weighing no more than two kilograms.