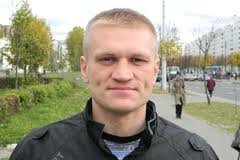 In the evening of August 24 Sergei Kavalenka called home and said that he was released a week ago from a solitary confinement and went straight to the colony hospital because of a cold.
On August 25 Alena Kavalenka visited the Belarusian Interior Ministry's Penitentiary Supervision Department (the DVP), to find out where is her husband being kept and to learn about the state of his health. Almost two weeks ago after serving a sentence in solitary confinement Sergei was moved to a penal colony hospital, but his family was not provided with any information about his whereabouts. On August 24 Alena Kavalenka received  information from the DVP. As she said – An employee of the department, called somewhere and said that Sergei is still in the colony hospital, and that probably on  August 27 he will be moved to a regular ward. He said that it is because of a cold."
Sergei was convicted in May 2010 for hanging a traditional red and white Belarusian flag on a Christmas tree in his home town of Vitsebsk. The suspended sentence he received for this "crime" was extreme but in February the authorities decided that Sergei must spend the remaining 2 years 1month of his 3 year sentence in a penal colony due to alleged minor violations of his probation conditions.Sergei has been on hunger strike for months. In April 2012, the authorities started force feeding him to keep him alive. Kavalenka ended his hunger strike at the end of May.